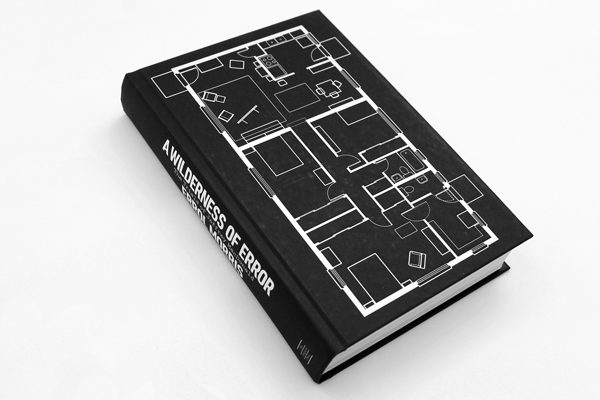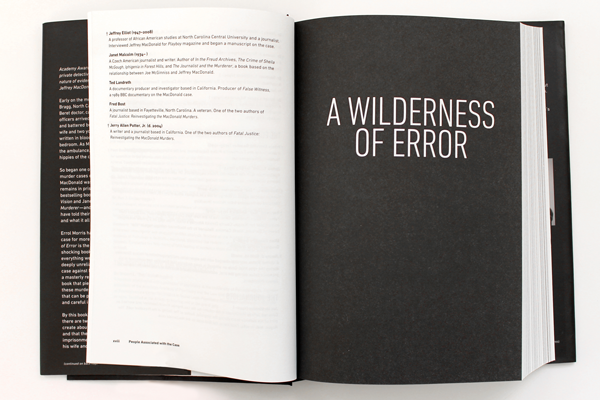 A Wilderness of Error:
The Trials of Jeffrey MacDonald
Errol Morris
Penguin Press, 2012
6.5 x 9.5 inches, 544 pages

Designed at Pentagram under the direction of Michael Bierut;
Illustrations by Lee Cerre, Matt Delbridge, Niko Skourtis, and Yve Ludwig
In this exhaustive 524-page volume, Errol Morris, the Academy Award-winning documentary filmmaker, synthesizes twenty years of his own investigation and insight into the case of Jeffrey McDonald, a Green Beret doctor accused of brutally killing his pregnant wife and two daughters.
The book brings together a wide range of material in addition to Morris' narrative including interviews, timelines, and key transcripts. Instead of using archival photography to illuminate the evidence, the book includes a simple line drawing of a key piece of evidence or concept for each chapter. Read more about the book and its design
here
.
A Wilderness of Error
won the AIGA 50 books/50 covers competition for both book and cover design.